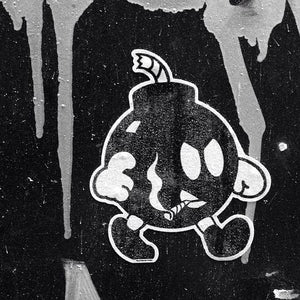 VANDAL VAULT
HELLO MY NAME IS: Scuba Steve owner of Vandal Vault.
I have travelled far and wide in search of the next addition to my graffiti collection. 
I realised graffiti merch is limited within Australia.. So I made Vandal Vault to help us find the graffiti brands and products we love.
Before opening when at my local paint shop I would be lucky to get a free sticker.. Nothing Special.. Nothing Usually.. So In the spirit of paying it forward, happy customers and Growing the buisness I aim to make every customer Happy!
So you will always be guaranteed to get more free stuff from my shop than any other graffiti shop!
Lockdown sucks in Sydney but it would of been tougher without everyone's support thanks everyone for your help!
Born in Covid Vandal Vault only started this year and order #1300 just rolled out the door!
THANKS AGAIN!!
Lockdown Permitting.. Storefront Coming Soon !!
Vandal Vault is dedicated to street art and street culture. with a focus on graffiti merchandise.
I hope to push the graffiti artform forward and try to lobby for legal graffiti walls!
I will treat everyone like a mate and expect the same in return. Any disrespect, bullying or teasing is not in the vault!
If there is a brand or product you would like to see us stock please contact me Scuba Steve at vandalvault@gmail.com
or Instagram vandal_vault
Reclaim The Streets!
Subscribe to Vandal Vault
For the latest products, giveaways and exclusive discounts.